Enhancing Product Presentation with Acrylic LED Luminous Display Stands for Wine Bottles and Skincare Items
2023-07-04 08:38:14
cropsong
14
In today's competitive market, product presentation plays a vital role in capturing customers' attention and driving sales. Acrylic LED luminous display stands have emerged as a popular choice for showcasing various products, including wine bottles and skincare items. One company at the forefront of designing and manufacturing these display stands is SK Display. Specializing in customized and wholesale handmade acrylic display stands and display cases, SK Display offers a range of solutions that combine aesthetics, functionality, and innovation.
Captivating Visual Appeal:
Acrylic LED luminous display stands bring a captivating visual appeal to the presentation of wine bottles and skincare items. The combination of high-quality acrylic material with integrated LED lighting creates a mesmerizing effect that attracts customers' attention. The transparent nature of acrylic allows for a clear view of the products, enhancing their visibility and allure. Whether placed in retail stores, exhibition booths, or trade shows, these display stands serve as eye-catching focal points, effectively showcasing the merchandise.
Customization to Reflect Brand Identity:
SK Display understands the significance of branding and offers customization options to reflect each client's unique brand identity. From logo printing to color schemes and design elements, the display stands can be tailored to align with the brand's aesthetics and messaging. This level of customization ensures consistency across different marketing channels and enhances brand recognition. By incorporating the brand's logo and specific design elements into the display stand, businesses can establish a strong visual presence that resonates with customers.
Versatile Display Solutions:
One of the key strengths of SK Display is its ability to cater to a wide range of product types. The acrylic LED luminous display stands are versatile and adaptable, making them suitable for both wine bottles and skincare items. With adjustable shelving and tiers, the stands can accommodate bottles of different sizes and shapes, or arrange skincare products in an organized and visually pleasing manner. The flexibility of these displays allows for effective product arrangement, enabling customers to easily browse and select their desired items.
Illuminating the Way with LED Lighting:
The integration of LED lighting into the acrylic display stands elevates the overall presentation. The gentle glow provided by the LEDs not only enhances the aesthetic appeal but also creates a welcoming and luxurious ambiance. In the case of wine bottles, the illuminated display showcases the rich colors and labels, enticing customers to explore the collection further. For skincare items, the soft lighting accentuates the product packaging and communicates a sense of premium quality. The LED lights can be customized to match the desired tone or color scheme, ensuring a cohesive visual experience.
Quality Craftsmanship and Durability:
SK Display takes pride in its commitment to quality craftsmanship. Each acrylic display stand is meticulously handcrafted, resulting in a high-quality product that exudes elegance and durability. The use of premium-grade acrylic ensures the stands are resilient and long-lasting, capable of withstanding daily use and potential impacts. This durability translates to an investment that will serve businesses for years to come, providing a reliable and visually appealing showcase for their wine bottles and skincare products.
Wholesale and Customization Options:
SK Display understands the varying needs of businesses, and as such, offers both wholesale and customization options. For those seeking bulk orders, the company provides competitive pricing and efficient delivery, ensuring a seamless experience for clients. Additionally, customization services allow businesses to tailor the display stands to their specific requirements. SK Display's team of experts works closely with clients to understand their vision and deliver customized solutions that perfectly align with their brand identity and product range.
Acrylic LED luminous display stands have revolutionized the way wine bottles and skincare items are showcased. SK Display, a leading acrylic display stand and showcase manufacturer, offers a comprehensive range of customized solutions to elevate product presentation. With their captivating visual appeal, customization options, versatility, and attention to craftsmanship, these display stands effectively highlight the beauty and allure of wine bottles and skincare items. By choosing SK Display, businesses can create an engaging and memorable shopping experience, ultimately driving sales and building a strong brand presence in the market.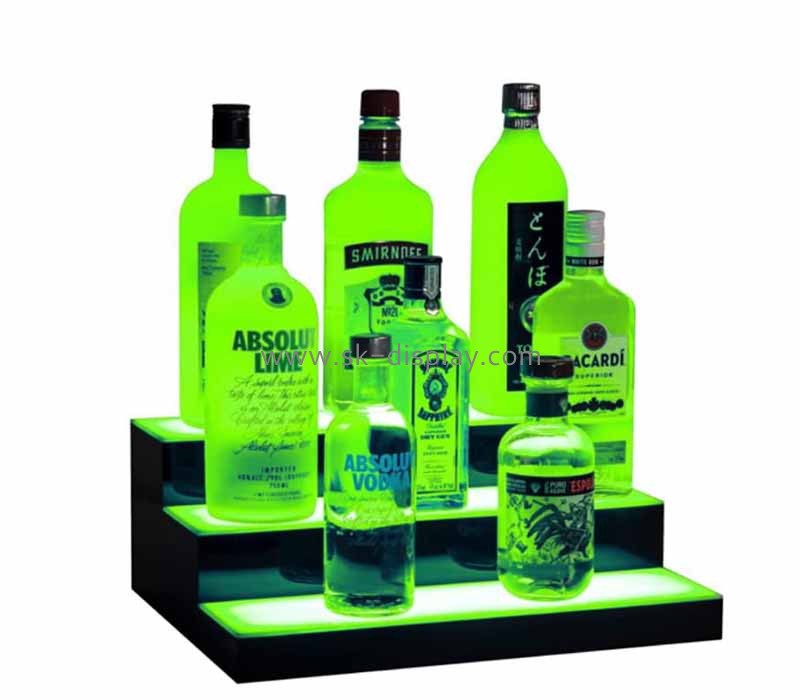 For more information about acrylic displays, welcome to visit professional Chinese acrylic displays manufacturer website: https://www.sk-display.com