How to customize the acrylic box
2019-11-18 10:13:02
cropsong
10
Acrylic boxes are familiar to everyone, and can be seen in offices, homes, hotels, shopping malls, etc. Because of its good transparency and chemical stability and beautiful appearance, it is widely used in many aspects of life. So what is the acrylic box? Today, Xiaobian will introduce it to you.
Acrylic boxes, as the name implies, are boxes made of acrylic. Acrylic is also known as plexiglass and its chemical name is polymethyl methacrylate. It is an important plastic polymer material developed earlier. It has good transparency, chemical stability and weather resistance, easy dyeing, easy processing and beautiful appearance. It has a wide range of applications in the construction industry and life.
The acrylic box has crystal-clear transparency and a light transmittance of over 92%. Its soft light, clear vision and beautiful appearance. Acrylic box also has excellent weather resistance, high surface hardness and surface gloss, as well as good high temperature performance, its wear resistance is also close to aluminum, stability, and resistance to a variety of chemical corrosion.
There are many kinds of acrylic boxes on the market. How do we choose to customize? First: the quality of acrylic, we must fully consider the various parameters of acrylic in the early selection. Of course, even if you choose to be satisfied in the early stage, you should look at the actual effect of making the box. Second: the qualification of the manufacturer, we have to choose a strong enterprise, such as Ruiyi Zhicheng plexiglass supplies Co., Ltd. is worth considering, they have a professional team responsible for designing products, from design to finished products are strictly controlled, serious and responsible. Third: the price, now the pursuit of cost-effective, under the premise of ensuring quality, we of course choose a more reasonable price of the product.
In summary, when faced with a variety of acrylic box customization. We should choose strong companies to cooperate according to our own customization needs. And in the case of product quality assurance, choose manufacturers that can give us more concessions. If you want a more comprehensive understanding of acrylic customization, please pay attention to us.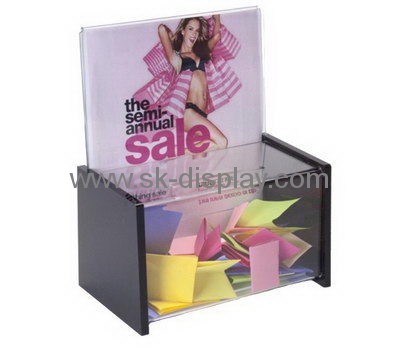 For more information about acrylic displays, welcome to visit professional Chinese acrylic displays manufacturer website: https://www.sk-display.com