What are the main points for judging the price of the acrylic display stand?
2019-01-29 08:50:11
cropsong
18
With the increasing number of acrylic display products on the market, as a purchaser, there will be a problem in daily procurement, that is, the judgment of the price of the acrylic display stand. Because the homogenization of acrylic products on the market is more serious now, and sometimes it will be dazzling, how to quickly find a product with the right price or a supplier as a consumer has become an urgent problem to be solved among many procurement personnel. . So in the face of the current market, how should our purchasing staff judge the price of the acrylic display stand? The most common method in life now is to shop around, let more suppliers come to quote, and then choose the best.
In our opinion, the main points of evaluating the acrylic display stand are as follows:
First, we must first understand the production process of acrylic display stand
Second, according to their own product design requirements, use of functions and features for component decomposition, while evaluating. For example, a product can be determined according to the initial process of its image, which includes hot bending, laser cutting, and silicone, and then combine the thickness and color of the board you need.
It is not difficult to see from the above two points that hot bending and laser cutting are common production methods. In fact, the cost is similar. The focus is on the choice of silicone and the material of the board. When these points are determined, it will be clear at a glance.
Therefore, after mastering these two points, you can basically have a rough price range in your heart, and then compare them according to the quotation given by the partner, so that you can basically choose the right supplier.
For more information about the price of acrylic display stand, please contact us, we will answer the corresponding questions in detail.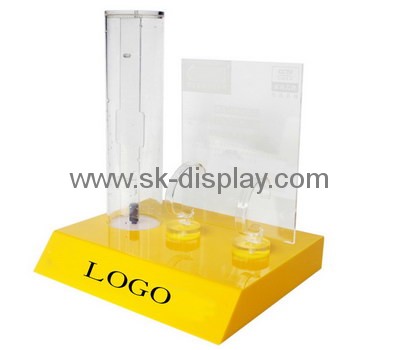 For more information about acrylic displays, welcome to visit professional Chinese acrylic displays manufacturer website: https://www.sk-display.com