What are the acrylic processing processes?
2019-02-01 15:59:41
cropsong
17
What are the acrylic processing processes? Acrylic, also known as plexiglass, is an early development of plastic polymer materials with chemical stability, weather resistance and good transparency. It also has the advantages of easy processing and beautiful appearance. It is currently widely used in the construction industry. I will introduce you to the process of making acrylic processing today.
The acrylic processing process is as follows:
1. Cutting material. First, the size of the acrylic product is clarified, and the acrylic product is cut to avoid material waste.
2, carving. After the material is finished, the acrylic sheet is initially engraved and carved into different shapes according to the shape requirements of the acrylic product.
3. Punch. According to the needs of acrylic products, make small round holes in acrylic products.
4. Polishing. After cutting, engraving, and punching, the edges are rough and easy to scratch the hand. Therefore, a polishing process is required, and different polishing methods can be selected depending on the product. Polishing is also divided into cloth wheel polishing, grinding wheel polishing and fire polishing. Then trim the edges with a trimmer.
5, hot bending. Through hot bending, acrylic can be transformed into different shapes. In hot bending, it can be divided into two types: integral hot bending and local hot bending, which is also a key point of acrylic processing.
6, silk screen. If the user needs to display the brand logo or slogan, the screen printing will be selected. The silk screen is divided into two types: silk screen printing and four-color silk screen printing.
7, tear paper. The tearing process is a step of processing before the silk screen and hot bending process. The sticker attached to the acrylic sheet must be removed before silk screen printing and hot bending.
8, bonding, packaging. These two steps are the last two steps of the acrylic processing process, the assembly of the entire acrylic product and the packaging before leaving the factory.
What are the acrylic processing and production processes? Through the above points, everyone has a certain understanding, it can be seen that the acrylic processing needs a series of steps such as cutting, engraving, punching, polishing, hot bending, etc., each step needs to be taken seriously. SK Display is a professional acrylic display factory customize acrylic display stands and acrylic boxes with best service, For more information on acrylic customization, please feel free to contact us.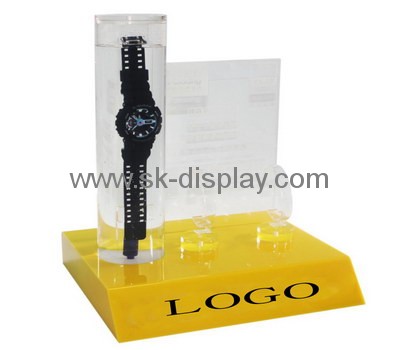 For more information about acrylic displays, welcome to visit professional Chinese acrylic displays manufacturer website: https://www.sk-display.com