Donation Boxes Are Good To Collect Money For Non-profitable Organization
2015-10-28 08:44:08
cropsong
54
Donation boxes
are usually placed in public places. You will typically find donation box in shopping centre,hospital,red cross organization parking lots, and many public places. These donation boxes are un-manned charity donation places where people can leave their donations.
Donation boxes are typically used in two ways. Sometimes, donation boxes are placed at a high traffic areas, where for the people to donate as their like. And the other way is, charity staffs and volunteers take donation box with them, to go these busy areas to actively solicit donations.
Both of these method are aim to collect money or funds for the non-profitable organization.
Some donation box come with one sing holder, which can be labeled some important information,such as your charity group name, logo and a brief description of how donations will be used should be included on the label.
In our factory, we can custom made and design all kinds of
acrylic donation box
, like heart shape donation box,house shape donation box, rectangle shape donation box, round donation box and many other shape donation box. Your can provide your drawing or specification, and then we will make it as your request.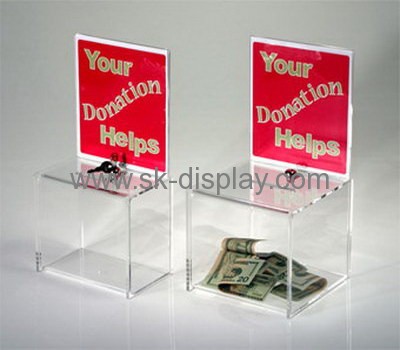 For more information about acrylic displays, welcome to visit professional Chinese acrylic displays manufacturer website: https://www.sk-display.com