What is the acrylic processing technique?
2019-11-13 08:05:38
cropsong
10
Many people don't know much about Acrylic, so what is acrylic? What is the role of Acrylic? In fact, Acrylic is the acrylic plastic we often say, and some people call it polymethyl methacrylate, which is better in transparency. Because it is easier to process and has a beautiful appearance, it is used more in the construction industry. What is the acrylic processing technique?
1.Thermoforming: When acrylic processing, the acrylic billet is mainly cut, and then the acrylic is heated. This is mainly to make it soft. After softening, it can be placed in the mold. After putting it into the mold, it will be pressed tightly with the mold. This will create the shape you want Acrylic to want.
2.Extrusion molding:Acrylic processing can be made by using granules produced by suspension polymerization to produce plexiglass processing plants. Acrylic glass processing plants often use acrylic. The main advantage of this method is high production efficiency, and some mold parts are easy to process the desired shape. However, the use of extrusion molding will produce unexpected results.
3.Injection molding:Acrylic processing can also utilize the pellets produced by suspension polymerization, and use these pellets to be injection molded on a common plunger or screw injection molding machine. This method is generally mass-produced and the production effect is better.
4.Machining:Acrylic can also be machined. This method of processing is mainly to cut, drill, engrave, grind, polish, etc. Acrylic. This series of processes will produce shaped crafts and will be very Pretty.
Acrylic crafts are used in many buildings, but it is necessary to use the appropriate craftsmanship to process acrylic according to the crafts needed, in order to achieve the effect you want, using acrylic display racks, acrylic boxes, acrylic brochure holders, the most used widely.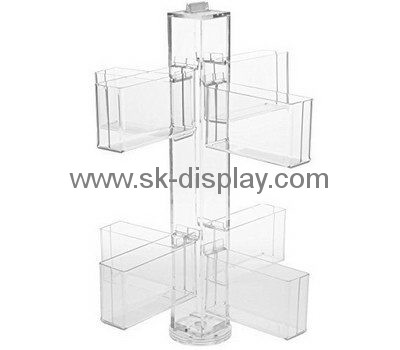 For more information about acrylic displays, welcome to visit professional Chinese acrylic displays manufacturer website: https://www.sk-display.com