Clear Acrylic Donation Boxes Are So Popular Now
2015-11-17 08:28:52
cropsong
36
Donation boxes can be seen in parks before,but today donation boxes are very popular in many places,such as hospital, school,charity, Humane Societies, Cancer Groups, Museums,supermarket etc. Many nonprofit organizations and charity groups have successfully used donation boxes, ballot boxes, collection boxes and charity boxes in fundraising campaigns.
Donation box, collection box fundraisers are one of the easiest and fastest fundraising methods for a nonprofit organization or charity group to raise money for their cause. It is easy to implement and will keep on fundraising for your group 24 hours a day.The donation boxes are relatively inexpensive and long lasting. Donation cans are also a great way to spread your groups message and to promote awareness of your cause.
Our clear acrylic donation boxes are attractive, durable collection boxes, it would be good way to integrate donation into your nonprofit or charity organization fundraising strategy.
All the acrylic donation boxes come in a variety of sizes and shapes such as square, round, and rectangular are standard,but we specially offer one heart shape acrylic donation boxes ,which are best seller, perfect to inspire people to make contribution.
All of our acrylic donation boxes are made of clear sturdy acrylic. For most of donation boxes,they are designed one slot on the top and one door on the side or bottom,but nearly all the donation boxes come with one lock to secure the content. In order to convey our information,we can design one sign holder on the donation boxes.
In one word ,you just tell us your idea or send us your drawing,then we will help you to custom made your unique acrylic donation boxes.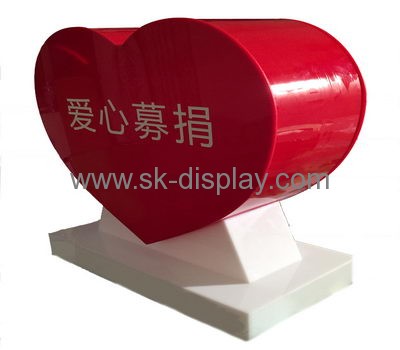 For more information about acrylic displays, welcome to visit professional Chinese acrylic displays manufacturer website: https://www.sk-display.com