Is the acrylic display screen printed or UV printed?
2019-12-08 10:19:40
cropsong
3
For customers who want to customize the acrylic display stand, the logos and advertisements on the display stand will be entangled in whether the acrylic is printed with silk or UV.
Our suggestion is that if you want to print more colors on the acrylic display stand, it is best to choose UV printing, because UV printing is no problem, no matter how many colors or color changes. UV printing generally calculates the price by the square and the number to be printed.
If it is monochrome, and the number of products required is also large, it is also possible to choose screen printing. Just because of the high labor costs today, the cost of hand-screen printing is becoming more and more expensive. Screen printing requires a board to be printed. Prices are also subject to size and quantity.
SK Display In the manufacture of acrylic display stand, whether it is acrylic silk screen or UV printing, has accumulated more than ten years of experience, can be used correctly and flexibly, welcome customers to come to discuss cooperation!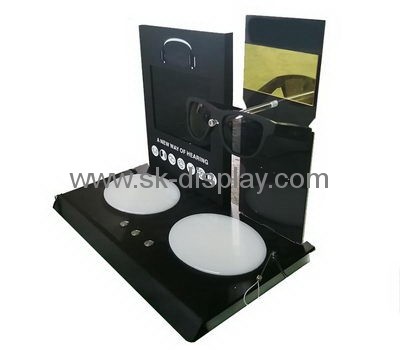 For more information about acrylic displays, welcome to visit professional Chinese acrylic displays manufacturer website: https://www.sk-display.com