Acrylic display cabinet display skills
2019-11-25 09:02:49
cropsong
4
Acrylic display cabinets are mostly used to display more expensive items, such as jewelry, watches, etc., the unique acrylic display cabinet will make these items look more noble and superior. When we go to the store, we often see those neatly displayed display cabinets arranged in order, they are carefully decorated by the clerk and placed in the counter. So, do you know what the display skills of acrylic display cabinets are?
1.Plug-in display cabinet. Acrylic display cabinets are made of plate inserts of various sizes and sizes, and the openings are cut out in certain display cabinet parts, and then inserted into the showcase, combined into showcases, display cabinets, display racks, display stands, grids, display racks, instructions. Display items such as signs and other uses for better display of items to save space.
2.Set display cabinet. Chinese traditional homes have a variety of structural forms such as sets, sets of tables, sets of stools, etc. The size of the square piers from small to large sizes varies in size and height, and the combinations are diverse; when not in use, small objects are collected in turn. It can be used in large parts, so that you can make full use of the space displayed by large pieces to reduce the space for storing items.
3.Single unit combination display cabinetFirst, design one or more single display props, and then use these single display props to assemble and construct new display props with changing shapes and standards. This will not only make the items better display, but also give people a kind of The novelty of this type of display props is more used in exhibitions, museum displays and window displays.
In summary, the above three are the types of acrylic display cabinets and display techniques. I hope that these skills can provide practical help to you in your actual life and work. As a professional manufacturer dedicated to acrylic customization, in addition to acrylic display cabinets, there are many other products customized by Acrylic. If you have the need to purchase acrylic products, please contact us, we will be happy to help you! !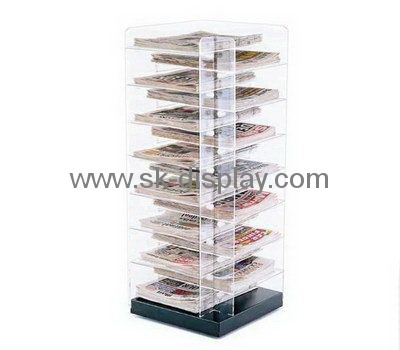 For more information about acrylic displays, welcome to visit professional Chinese acrylic displays manufacturer website: https://www.sk-display.com