What are the functions and design features of plexiglass display stands?
2019-03-18 09:41:37
cropsong
10
It is well known that the current level of competition in China is obvious. At the same time, domestic competition is more ubiquitous, because it is not only reflected in people, but also in competition between enterprises and enterprises. For many companies, if you want to develop, you must have strong strength and the advantages that competitors don't have. It is the so-called magic weapon. In fact, in recent years, the random purchase behavior of consumers has become more and more obvious, so many business leaders have adopted corresponding promotional advertisements. Nowadays, the most popular promotional advertising carrier among various promotional display props is the plexiglass display. frame. So, what are the functions and design features of the plexiglass display stand?
In fact, the plexiglass display frame is made by cutting, bending, grinding, polishing, bonding and other acrylic processing technology, combined with the professional design of professional designers, so that plexiglass sheet, bar, pipe and other plexiglass raw materials are processed into various forms. The appearance is beautiful, the high school is elegant, the taste is reflected, and the display items of the level are displayed.
At the same time, such display stands have many advantages, and it is currently the most popular promotional display props. At present, it has been used by the CEOs of various enterprises in the promotion of goods, because it plays a very important role in the promotion of commercial advertising.
All in all, for today's major companies and major shopping malls, their existence is to earn more profits. So now they are facing such fierce competition, then they have to do their best to improve their own strength, and thus increase the chance of winning. At the same time, the current popular marketing methods are advertising promotions, so the CEOs of major companies must seize the opportunity to show their own companies to win more victories through display promotions. Finally, if you want to buy a quality plexiglass display stand or ask for more details, you can log on to the regular plexiglass processing plant - www.sk-display.com or contact us directly.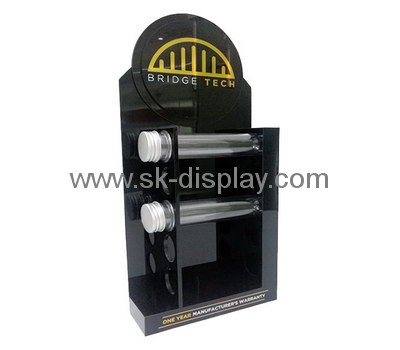 For more information about acrylic displays, welcome to visit professional Chinese acrylic displays manufacturer website: https://www.sk-display.com